Looking for a tasty and healthy treat for your small dog? Look no further than the Original Cheese Chew Treat, now specially designed to be 100% digestible and rich in proteins. Made with carefully chosen ingredients that provide essential nutrients, flavors, and textures your pup will love, this chew is perfect for those looking for something special to give their pet.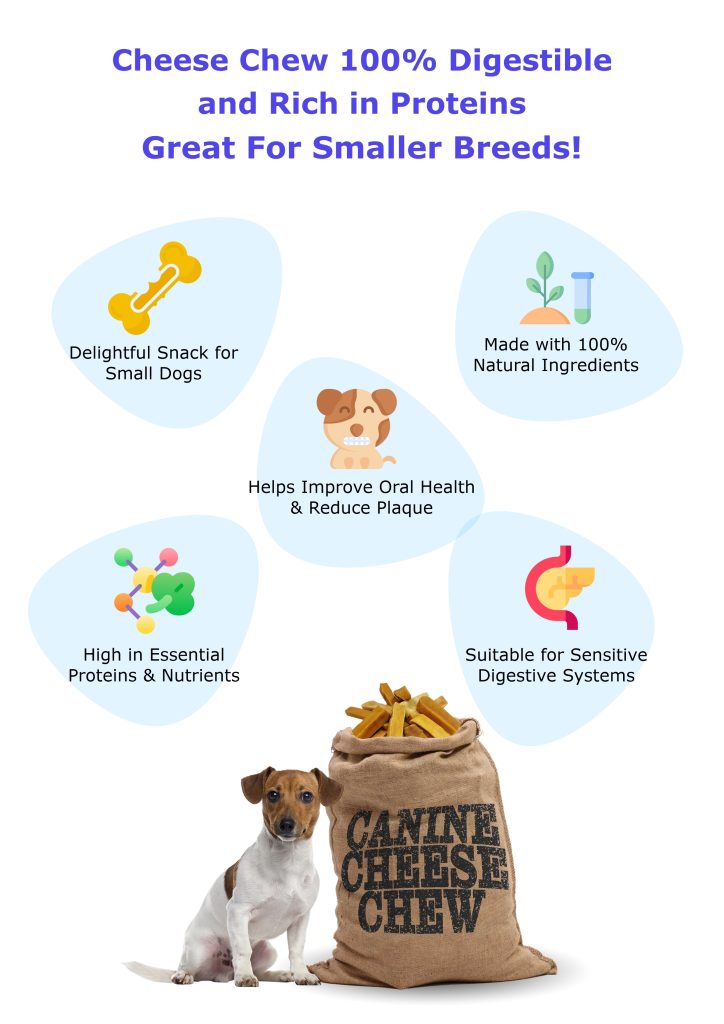 Delightful Snack for Small Dogs
Whether you need a tasty treat to reward your pup or just want to give them something special, the Original Cheese Chew Treat provides the perfect snack. Its natural ingredients provide essential nutrients and flavor that dogs crave, while its specially-made digestible design makes it perfect for smaller breeds. Give your pup an amazing snack they'll love with Cheese Chew!
Made with 100% Natural Ingredients
Cheese Chew Treats are all-natural and carefully selected ingredients that provide essential proteins, vitamins, and minerals to give your pup the boost they need. Our treats are made with 100% natural ingredients like oat, wheat flour, tapioca starch, and cheese to give your furry friend the best possible snack!
High in Essential Proteins & Nutrients
Cheese Chew Treats provide an essential boost of nutrients, including proteins, vitamins, and minerals which can help fuel smaller breeds with much-needed energy. Delicious cheese bits are distributed evenly throughout the treat to ensure your pup gets its daily dose of calcium and protein. These treats are perfect for smaller dogs who need a little extra nourishment.
Suitable for Sensitive Digestive Systems
Cheese Chew Treats are designed to be 100% digestible and perfect for those who have sensitive digestive systems. Due to their low-fat content, these snacks are also great for those pups who put on the extra weight quickly. All ingredients used in the treat have been carefully chosen so your pup can enjoy a great-tasting and nutritious treat without compromising their health.
Helps Improve Oral Health & Reduce Plaque
Cheese Chew Treats are also great for supporting oral health and hygiene in your pup due to their crunchy texture. The treat helps reduce plaque and tartar buildup on your pup's teeth which could lead to gum disease and other conditions. Regular snacking ensures that your pup won't experience any doggy breath and that their smile always looks clean and healthy!