Looking for an all-natural treat your pup is sure to love? Sansar Pet Supply has the perfect snack for you: Canine Cheese Chews! Not only are these delicious snacks safe and nutritious, but they're made from natural ingredients that won't harm your pup in any way. Try some today!
Introducing the Best Canine Cheese Chews! 
With Sansar Pet Supply's Canine Cheese Chews, you can feel confident that your pup is getting a healthy snack that is full of great taste! Crafted with natural ingredients, our Cheese Chews provide essential nutrients for your pet without any of the unhealthy additives. And since they're also made with love and care, you know your pup will gobble them up every time!
Made with Natural Ingredients for Healthy Nourishment 
Our Canine Cheese Chews are crafted with natural ingredients that are selected to provide essential nutrition for your pup. We use only veterinarian-approved ingredients to ensure that our snacks are healthy and safe for your furry friend. With no unhealthy additives or preservatives, you can be sure that the treats you give your pup will be full of vitamins and minerals. So treat your pup today with nutritious and delicious Canine Cheese Chews from Sansar Pet Supply!
Enjoy Delicious Treats With Every Snack 
At Sansar Pet Supply, we understand that treats are a special part of your pup's diet. That's why we strive to provide you with the tastiest and healthiest snacks that can add deliciousness to your pup's meals. Our Canine Cheese Chews are made with hard-smoked cheese and nutrient-rich ingredients so you can ensure that your pup is getting the nutrients they need while enjoying the delicious flavors they love. Get yours today!
Get a Range of Sizes to Fit All Dogs 
We offer a variety of sizes to accommodate each dog's individual needs. You can choose from Small, Medium, Large, and X-Large sizes depending on the size of your pup. Our canine cheese chews will satisfy all appetites, big or small! With their crunchy texture and cheese flavor, these treats are sure to be a favorite for your pup.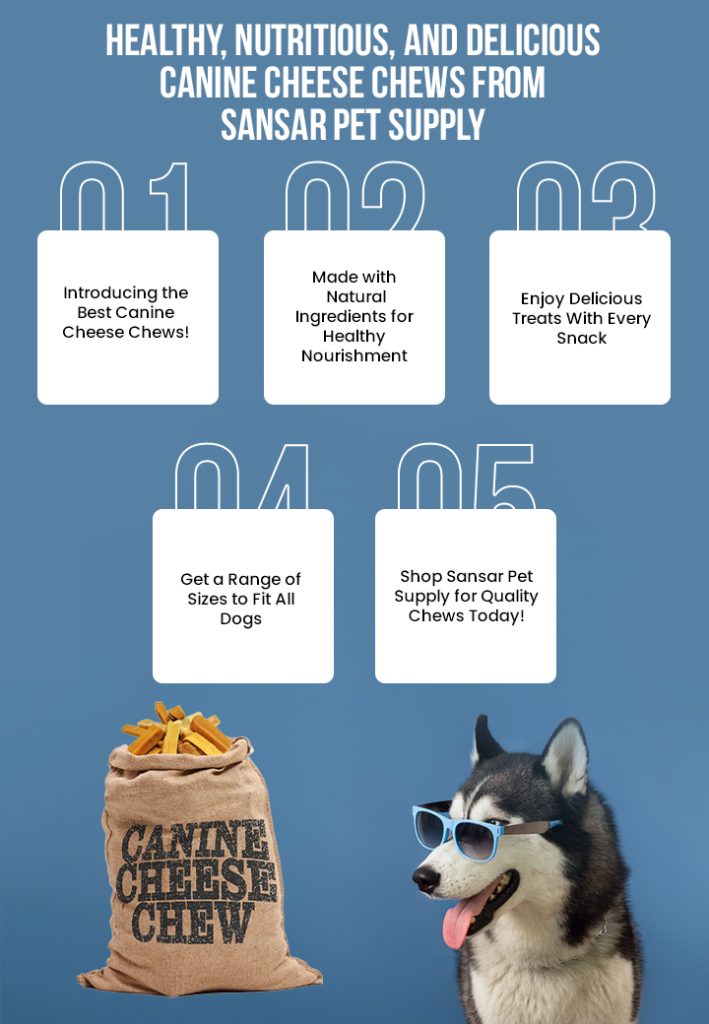 Shop Sansar Pet Supply for Quality Chews Today!
When it comes to nutrition and good health, you can trust our canine cheese chews from Sansar Pet Supply! Each one contains natural ingredients that are both tasty and nutritious. Plus, they're totally safe for your furry friend. And with the added convenience of being able to shop online for pet supplies at home, you can rest assured knowing your pup will be getting the best snacks possible.