A dog is the most trustworthy pet in the entire world. But they rely on their owners to keep them healthy. So, if you are a dog parent, you must seek guidance to take care of your dog's overall health. You have come to the right place. We are canine cheese chew suppliers all over the world & our experts will help you with how to take care of your dog's overall well-being. Let's dive in.
Training
There is no doubt that your dog loves you. They can do anything to make you happy, as you are the world to them. But training is a vital part of making your dog healthy. So, how to make them happy & healthy? A big question mark right? Sometimes they don't understand the things that can put them in danger. So, you can connect with them through behavioral training like basic commands and house training. The best way to communicate with them is through chews, as chewing is their favorite pastime. Moreover, you can take them out for 2,3 hours a day and teach them commands like sit, come and lay down.
Socialization
Dogs love to socialize. They love to go out continuously to meet new people and play with other dogs. Socialization in an earlier stage can help to keep their natural pack instincts alive. So, you must work patiently and make them engage with other dogs and humans.
Veterinary Care
Veterinary care is the most vital step in a dog's health. Because vaccination builds immunity against diseases. When your dogs are in their growing stage, keep a close eye on their overall health as many diseases are invisible to the naked eye. On the sight of any malicious symptoms, take them straight to a vet because prevention is always better than cure.
Grooming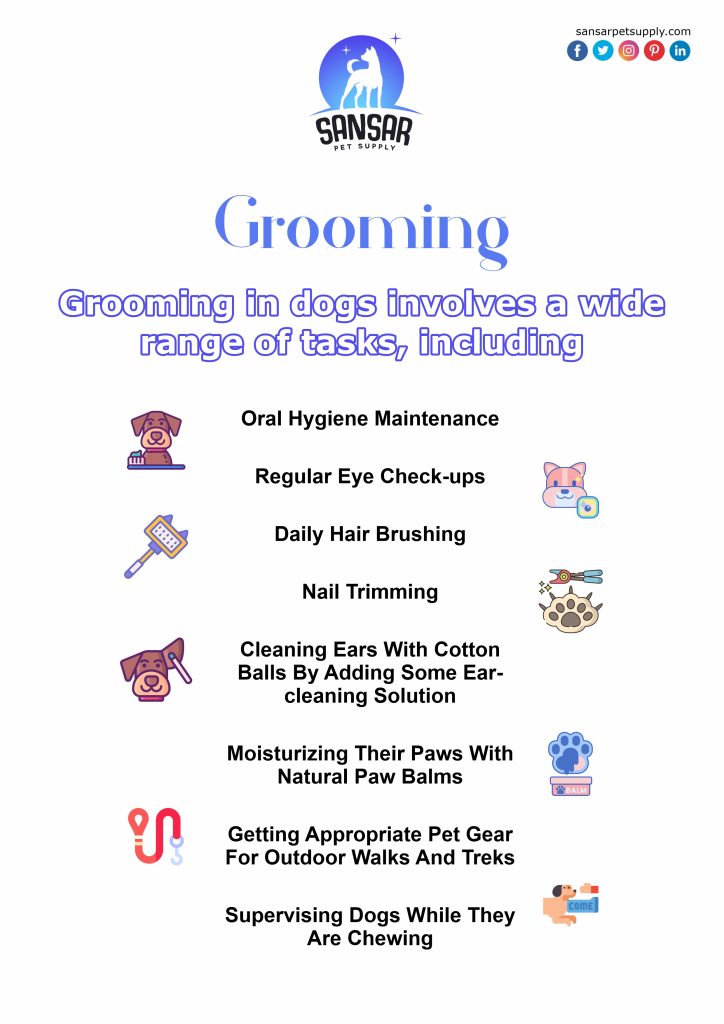 Grooming in dogs involves a wide range of tasks, including:
Oral hygiene maintenance
Regular eye check-ups
Daily hair brushing
Nail trimming
Cleaning ears with cotton balls by adding some ear-cleaning solution
Moisturizing their paws with natural paw balms
Getting appropriate pet gear for outdoor walks and treks
Supervising dogs while they are chewing
Nutrition
Last but not the least, the most important thing is to provide your dog with nutritious chews. Canine feeding habits can vary from dog to dog. So, while purchasing chews make sure to take a look at the ingredients. The product must be natural, preservative, and gluten-free.
Wrap Up
At Sansar Pet Supply the only goal is to provide quality & authentic products for dogs and their pet parents. Taking care of dogs sounds like a lot of heavy tasks. So, choosing the best canine cheese chew for your doggo can make them happy and healthy. Also, you will get more time to look further at your pooch's blazing eyes and capture good memories.
For more details contact our experts.