If you want to give your pup something extra special, look no further than Sansar Pet Supply. They offer original canine cheese chews made with wholesome ingredients that are veterinarian-formulated for optimal nutrition and satisfaction. Give your pup a treat they'll love today!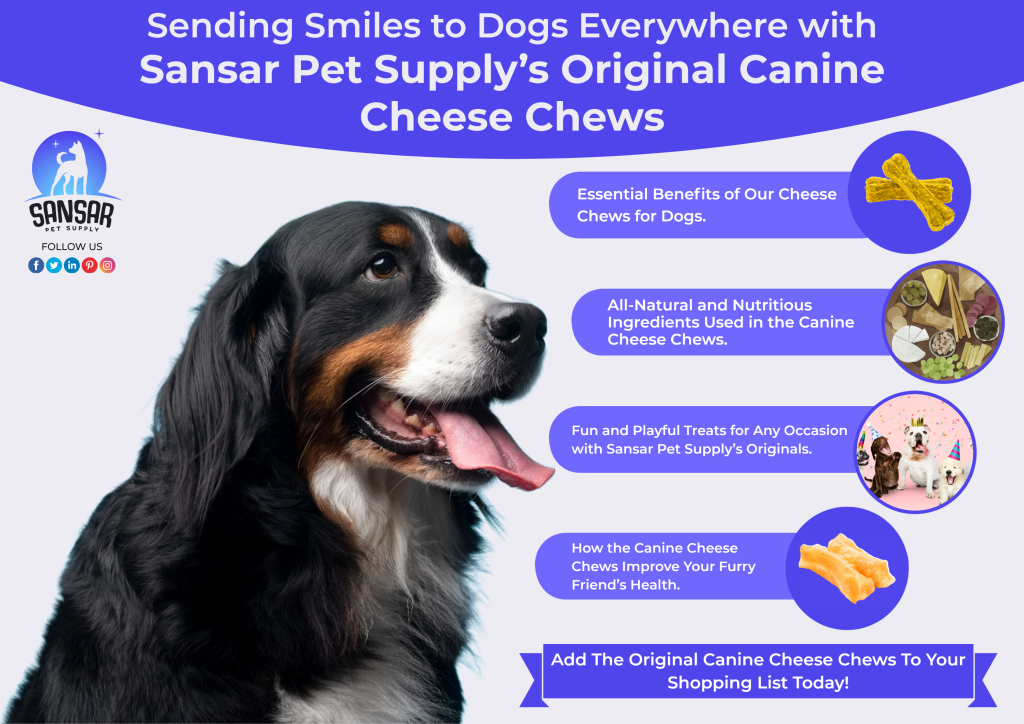 Essential Benefits of Our Cheese Chews for Dogs.
Our all-natural and wholesome cheese treats for your pup are packed with essential nutrients your dog needs. This includes proteins, minerals, dietary fibre, and essential fatty acids from the real cheese used in their treats. As well as being delicious, these chews also provide powerful antioxidants to promote healthy skin and coat health, while also helping to maintain a healthy immune system and fighting free radicals. Your precious pup is sure to love taking bites out of Sansar Pet Supply's original canine cheese chews!
All-Natural and Nutritious Ingredients Used in the Canine Cheese Chews.
Sansar Pet Supply's original canine cheese chews are made with all-natural and nutritious ingredients. These include real cheese, vitamins and minerals, and proteins. The real cheese used in their treats contains essential fatty acids that help maintain healthy skin and coat while also promoting immune system health. The vitamins and minerals present in the treats provide your pup with powerful antioxidants to fight free radicals. All of this is contained in each tasty treat, helping them to lead a longer and healthier life!
Fun and Playful Treats for Any Occasion with Sansar Pet Supply's Originals.
Sansar Pet Supply's original canine cheese chews are the perfect treat for any occasion. Your pup will be excited to hear the crinkle of the bag and start chewing away. The crunchy texture and delicious taste will keep your doggy smiling all day long. Whether it's a celebration, game-time, or just an afternoon in the park; these treats are sure to be a hit!
How the Canine Cheese Chews Improve Your Furry Friend's Health.
Canine cheese chews from Sansar Pet Supply are veterinarian formulated for optimal nutrition and benefit your pup's health in several ways. With quality ingredients, these cheese chews provide energy and protein as well as help break down plaque and tartar buildup on the teeth. In addition to being a healthy treat, they also help mental stimulation and lead to the better overall health of your pup.
Getting Started: Add The Original Canine Cheese Chews To Your Shopping List Today!
Keep your pup smiling and healthy with the delicious original Canine Cheese Chews from Sansar Pet Supply! Veterinarian formulated for optimal nutrition, these chews provide protein, energy and help break down tartar and plaque buildup. Not only are they a healthy treat, but they also provide mental stimulation to help keep your furry pal energized and engaged. Get the Original Canine Cheese Chews today – your pup's smile will thank you!